Gold Coast City Futures forum, 2020
Leading on from our inaugural Gold Coast City Futures forum in 2019, we are delivering our 2020 iteration from this September through to November. The forum explores just transitions in a green new world, with this year's forum focusing in on Burleigh Heads, where our design studio is located. In the face of COVID-19, the forum has evolved to incorporate online offerings, as well as being spread over a few months to allow participants different ways to respond and add their voice. Offerings include: artist submissions, a cultural probe kit, community profiles, a Bleach* festival participatory installation, and a community-led zine. The zine will be released in December and will be a compilation of the communities vision of Burleigh in 2050, as identified over the course of the forum. It will highlight ways to take meanigful steps towards these transitions.
Whilst some offerings have now closed to participation/submissions, the following are still open:
Bleach* festival 'Kiosk of the Future' installation
Happening from the 12 – 22 November, 2020.
Bleach* festival 'Deep Time Conversations'
Monday 16 and Tuesday 17 November, 2020.
Register for a free ticket here.
'Just transitions' community-led zine
Available for download in December.
Register here to keep informed.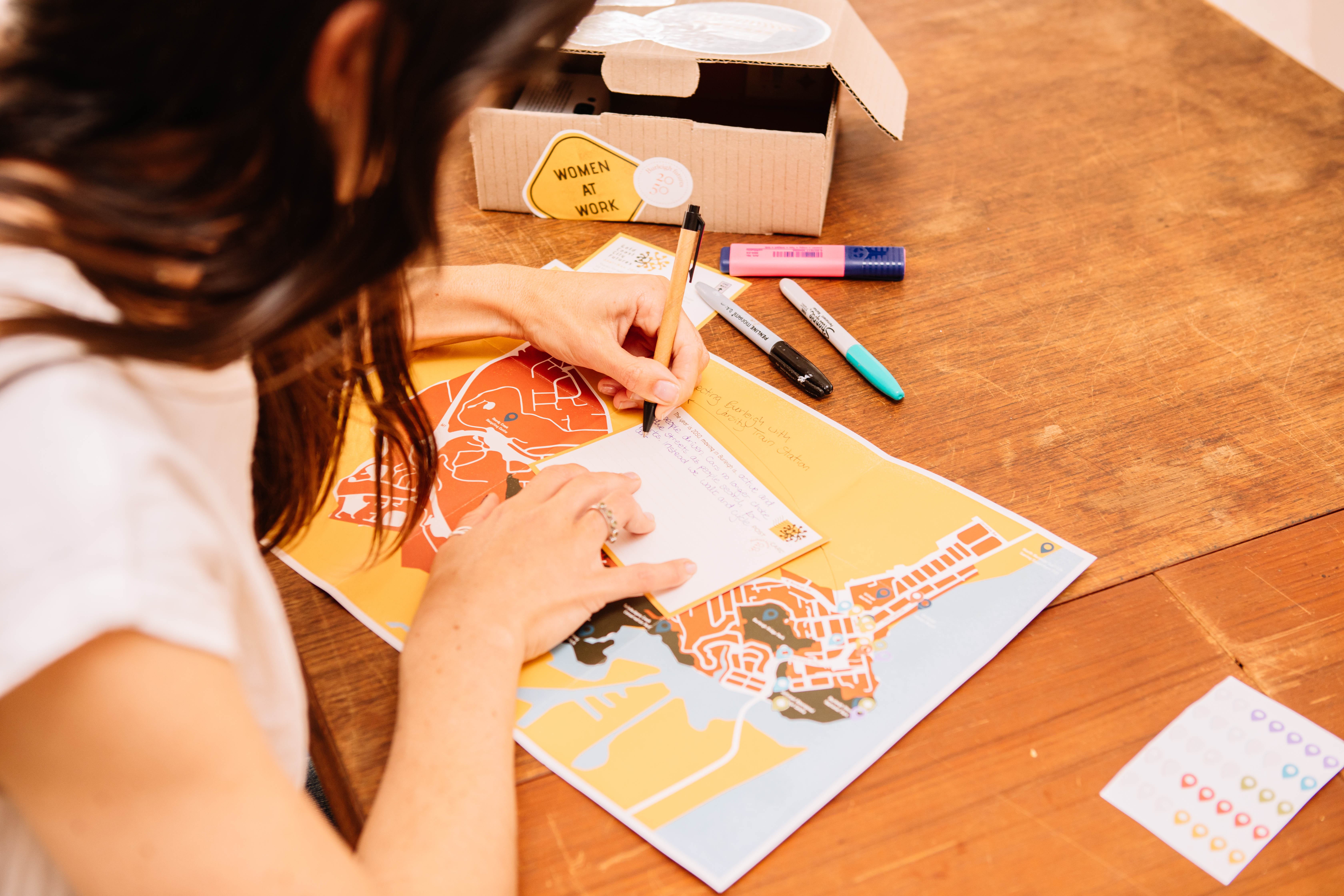 In the face of a changing climate, we are imagining alternative ways of living, eating, relating, moving and migrating.
Through our shift to focus in on Burleigh, we explored Burleigh's future through five different themes: visiting, eating, culture, living, and moving. Each offering explored these themes through a provocation:
Visiting Burleigh
How might we reimagine the experiences of people visiting and migrating to Burleigh? People from all over the world are drawn to our lifestyle and green surrounds, making Burleigh a tourist hotspot. Likewise, people from all over the world move here; many by choice but others to escape persecution, war and climate crisis impacts. Imagine a Burleigh where our cultural heritage, natural resources and sense of place is celebrated by locals and shared with neighbours and visitors. Where people feel welcomed and are provided the opportunity to enrich Burleigh's unique identity. Where change and growth is approached sustainably, planned for the long-term, and done with respect to the cultural heritage in place, the natural environment and uncertain futures.
Eating in Burleigh
How might we transform the way we produce, trade and consume our food in light of climate impacts on our food system? Burleigh's food scene is known by locals and visitors to be one of the highlights of the area. Restaurants, bars, cafes, local farmers' markets and community gardens are just some of the reasons why Burleigh is one of the most livable suburbs of the Gold Coast. Imagine a Burleigh community that embraces eating local, sharing spaces and time to promote "slow eating" and healthy habits. A community that gives back to the land with local, ecologically fair growing and collects lost resources through compost waste streams and above all, a community that rejoices in the act of bridging the disconnect between urban and rural environments.
Culture of Burleigh
How might we empower the Burleigh community to stay connected and continue a sense of place that celebrates both past, present and future? Jellurgal (Burleigh Heads) is culturally significant to the Yugambeh people. Burleigh is also iconic because of its surf culture. Our world-class wave break draws generations of locals and people from around the world and acts as an incubator for many of the world's leading surf brands. A just transition celebrates the significance of all cultures that have formed over the years to build our unique sense of community. Imagine a future that balances our histories and heritage with green, urban transformation to foster a sense of identity and place. A Burleigh with culture and meaning for the people that live, work and play there.
Living in Burleigh
How might we imagine a thriving and diverse urban community in Burleigh Heads that has totally transitioned to sustainable energy sources? Every single new building connects to a growing eco-framework that takes advantage of the natural conditions; access to abundant sun, wind, and collects water that is shared among all. Locals engage in the decision-making process with their community and prioritise affordable housing, social integration and the investment in green businesses. Mental health and sustainable lifestyle choices drive our decision-making. We celebrate diversity as it enriches our culture and strengthens the social fabric of Burleigh's vibrant and exciting community.
Moving around Burleigh
How might we transform the way we move around Burleigh and the Gold Coast? The Gold Coast is often considered to be car dependent, partly because of gaps in the City's transport infrastructure and partly because of ingrained cultural patterns that are hard to break away from. Imagine a Burleigh where public spaces are more welcoming to pedestrians, bicycles, school walking buses, and other active commuting modes. Our transportation models integrate private vehicles with public ones in ways that pay special attention to connectivity and smart, green infrastructure. Our Burleigh community becomes known as the walking suburb, where children are safe to ride to local schools, the elderly and disabled travel freely throughout a network of accessible public transport, and parking is redesigned for more exciting purposes.
To check out the other offerings from the forum, head to goldcoastcityfutures.com.au