Gold Coast City Futures Forum
We have been hard at work designing and pulling together powerful minds for a forum about Gold Coast City Futures: Just transitions in a new green world.
Visit goldcoastcityfutures.com.au to learn more: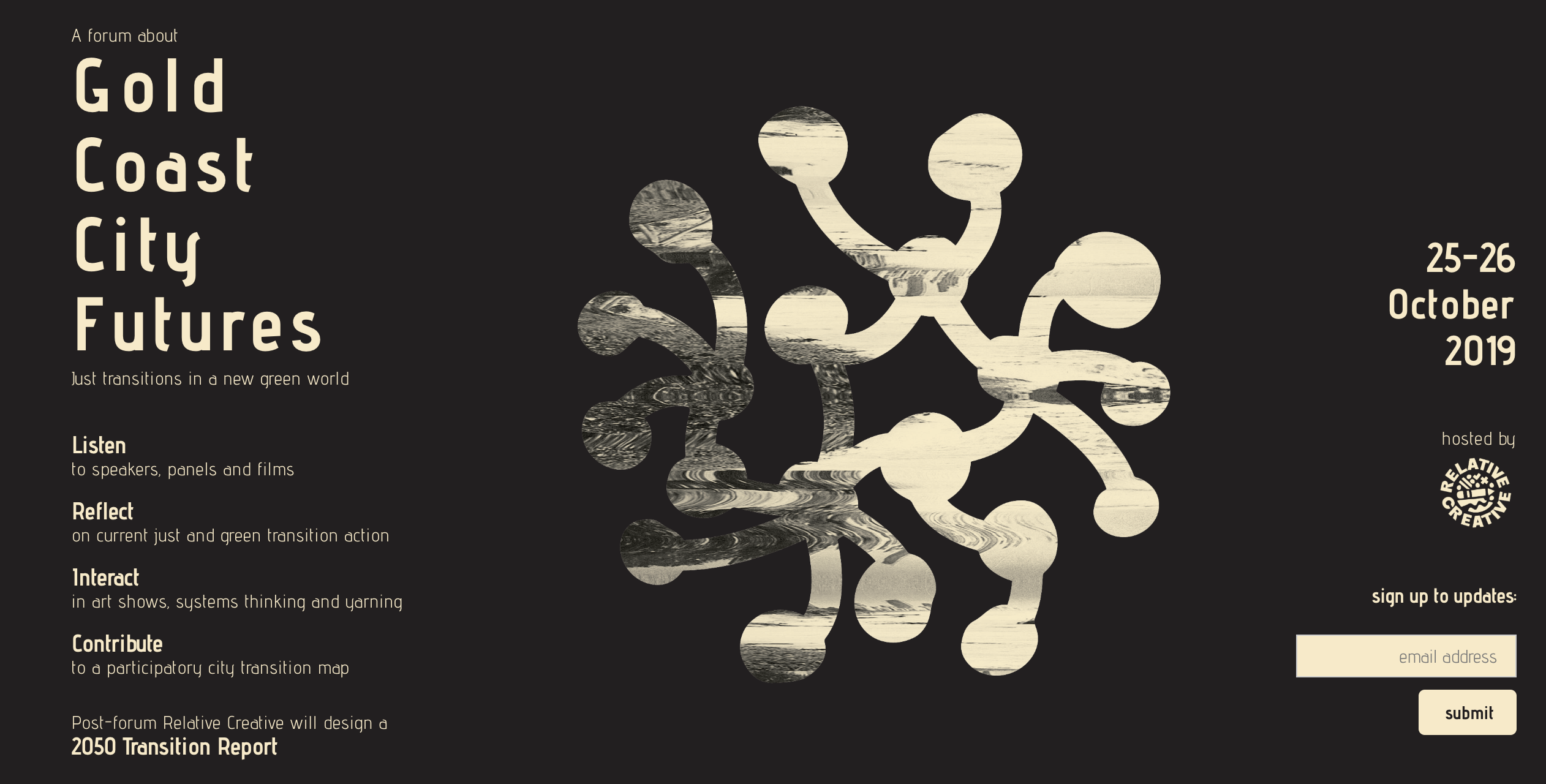 This year we asked ourselves how we could do more and what emerged is a forum about just transitions in a green new world. The focus of the forum is to discuss the future of the Gold Coast in response to our changing climate?
Tristan and Bec, Relative Creative
The Gold Coast shares South East Queensland's vulnerabilities to a rapidly changing climate and world. The Gold Coast is attracting one of the fastest growing populations in Australia and has been singled out by the Intergovernmental Panel on Climate Change (IPCC) as one of the most vulnerable regions to climate change owing to its geography and settlement patterns.
We could be dramatic and speculate that in the next few decades our physiology will find it difficult to cope with the rapid heat rise, our blood will struggle to cope with the migrating diseases and germs. We might speculate we'll be sick, irritated and, due to climatic conditions, forcibly displaced. We might duckdive deeper into our dystopian dream and imagine a Gold Coast where planes do not land; tourists do not visit; and waves without migrating box jellyfish and crocs do not exist.
Or, we could begin to imagine an inter and cross-disciplinary post-carbon transition for Gold Coast City Futures. We could listen to the science based research of the IPCC alongside social sciences; we could learn what urban, technology, energy and agro-food research can contribute to our transition. We could come together and ask, what will need to be designed; envisioned and revisioned, built and unbuilt, coded and created, manufactured and remanufactured, cultivated, employed and deployed, grown and degrown, urbanised and reforested and planned, power struggled and politicised to get to a viable, healthy Gold Coast future? We, as global citizens and Gold Coast locals, are at a crossroads. It's time to ask, what does a just transition to a green new world look like?