Cooktown Museum: Bama Room | Interpretation and design for an exhibit centring the culture, history and endurance of the Guugu Yimidhirr peoples.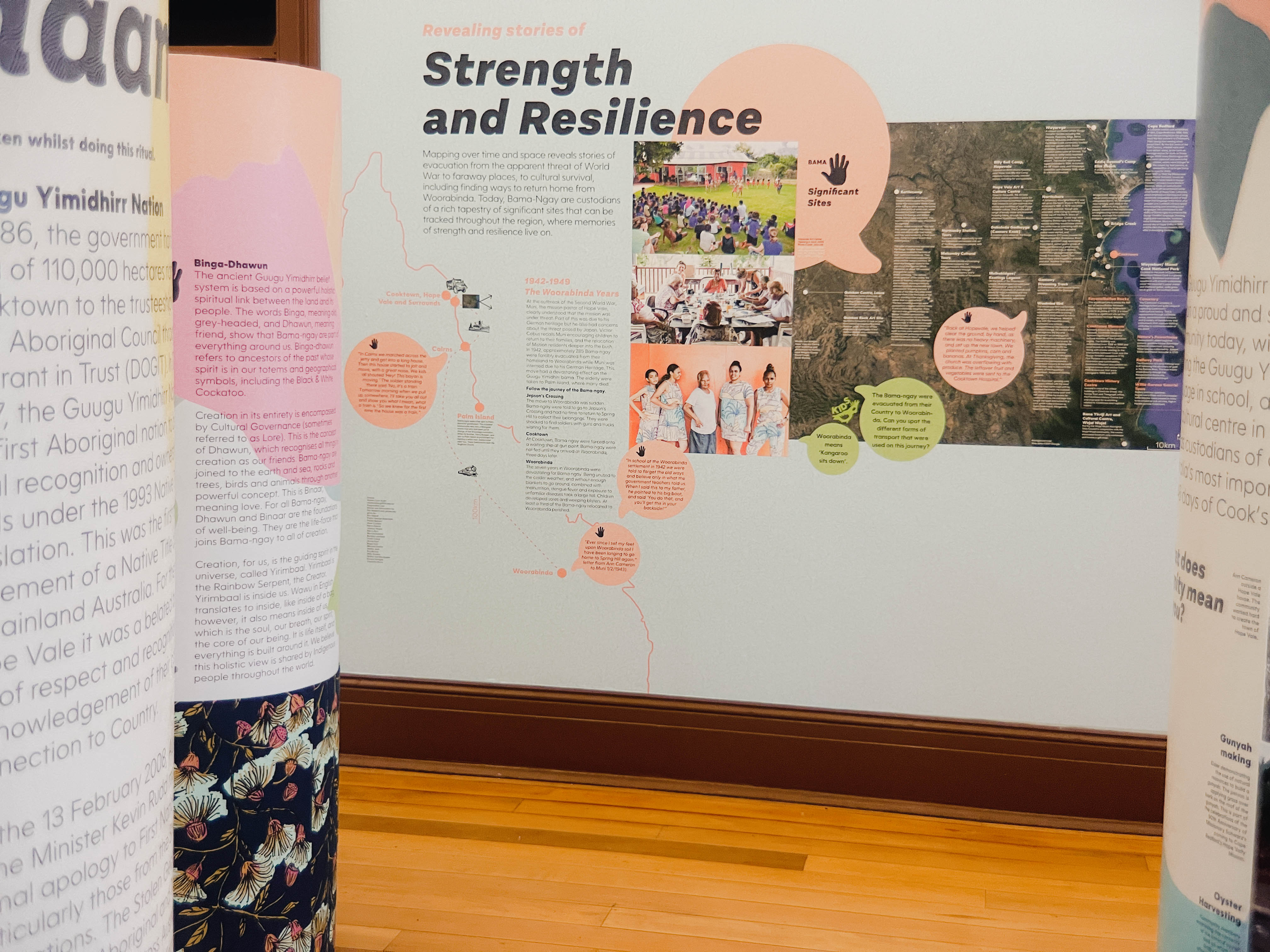 Background
In 2018 the National Trust of Australia, Queensland (NTAQ) engaged Relative Creative to design and lead community engagement with local Bama (Guugu Yimidhirr) as part of their broader project to redevelop James Cook Museum for the 21st Century. As the project progressed we were engaged further to develop place identity and a brand strategy for the museum, as well as the design and interpretation of the museum's exhibits. Installation of some museum exhibits, along with the museum's rebranding to Cooktown Museum, commenced at the end of 2021, with ongoing design of additonal museum exhibits.
Opportunity for futures
An important and significant part of the Cooktown Museum project was to consider new, exciting and respectful ways to reimagine the way Aboriginal cultures, with a specific focus on the Guugu Yimidhirr nation, are understood and experienced in and around the building and grounds.
Our approach
The Bama Room was conceptualised and developed through years of consultation with Bama-ngay (local Aboriginal people) to tell the story of the Guugu Yimidhirr nation and peoples. The room captures significant concepts and explores them through a Guugu Yimidhirr lens, drawing on historic events and hopes for the future. The story of colonisation, mission life and the traumatic removal to Woorabinda shines a spotlight on the extraordinary resilience that maintains a strong and thriving culture today, in spite of colonisation.
A significant feature in the design of the Bama Room is the seven different pieces of fabric dressing the bottom of each cylinder. Designed by the wonderfully talented women from Hopevale Arts Centre (Grace Rosendale, Daisy Hamlot, Dora Deemal, Wanda Gibson, Esmae Bowen) the inclusion of this fabric as well as being visually striking draws on the strong link between Cooktown and Hopevale.
We commend the National Trust of Australia, Queensland for providing the space, funds and continued trust to make this project possible and are grateful to all of the locals who have contributed their knowledge and lived experience to the project, notably Aunty Alberta Hornsby and Harold Ludwick.