Place identity for a reimagined story of reconciliation at the Cooktown Museum.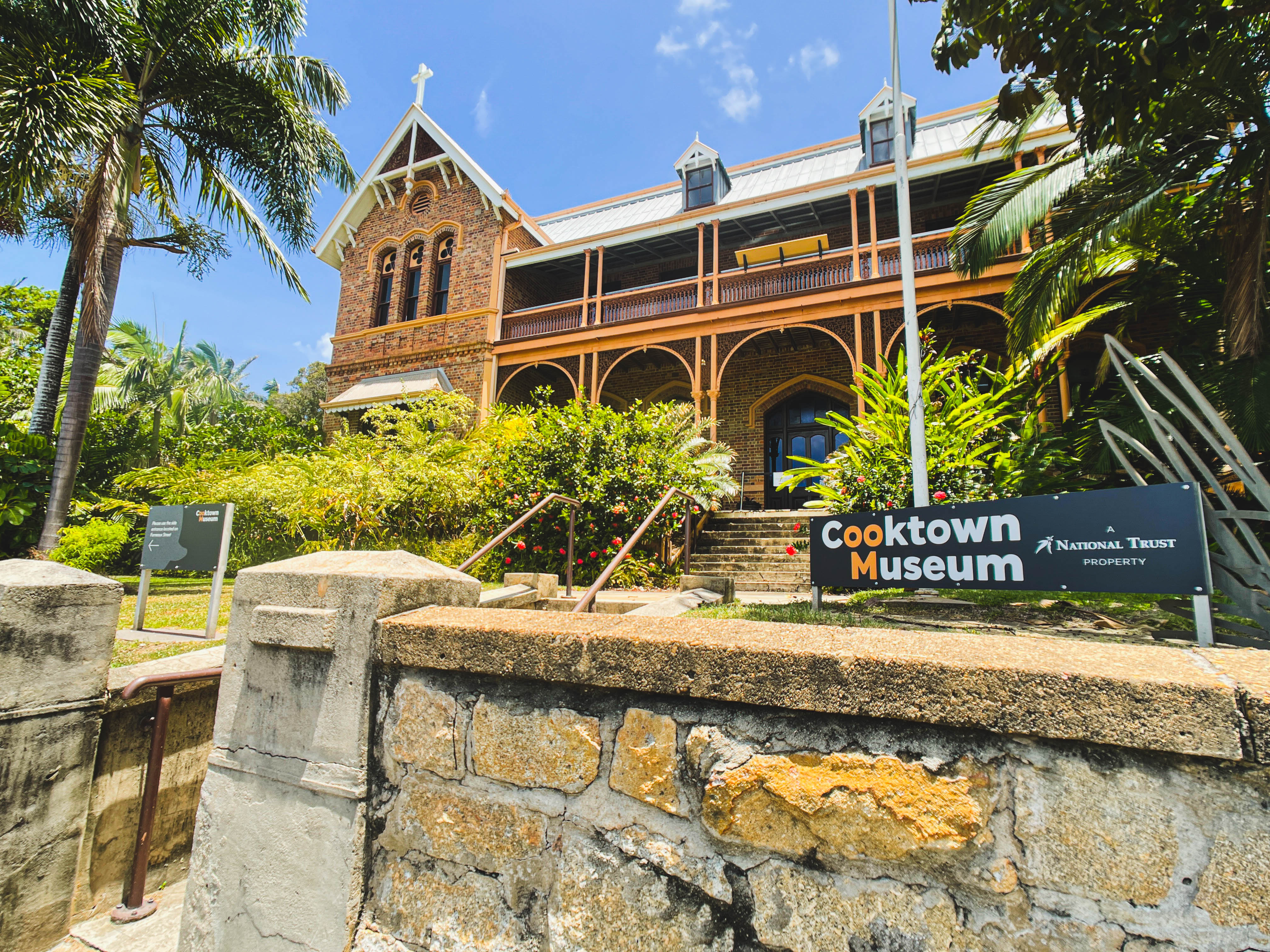 Background
In 2018 the National Trust of Australia, Queensland (NTAQ) engaged Relative Creative to design and lead community engagement with local Bama (Guugu Yimidhirr) as part of their broader project to redevelop James Cook Museum for the 21st Century. As the project progressed we were engaged further to develop place identity and a brand strategy for the museum, as well as the design and interpretation of the museum's exhibits. Installation of some museum exhibits, along with the museum's rebranding to Cooktown Museum, commenced at the end of 2021, with ongoing design of additional museum exhibits.
Opportunity for futures
An important and significant part of the Cooktown Museum project was to consider new, exciting and respectful ways to reimagine the way Aboriginal cultures, with a specific focus on the Guugu Yimidhirr nation, are understood and experienced in and around the building and grounds.
Our approach
The place identity for the museum was strongly embedded in the process of listening to the Traditional Owners and local Bama-ngay. Part of this listening highlighted the value of community places in the story of reconciliation. The notion of reconciliation is captured within the Cooktown Museum brandmark which depicts two figures, perhaps two cultures, meeting together hand in hand in dialogue represented by the two strokes of the 'M' aligned below the 'oo'.
The identity was designed to celebrate the plethora of stories that contribute to Cooktown today. Unique colour and icons were attributed to the different histories and perspectives of Bama, Cook, the town, sisters and kids, which interweave throughout the museum's interpretation. Repeat diffuse patterns are also used in interpretative panels, representing the Great Barrier Reef, as well as Indigenous Knowledges, ecologies of histories and ideas coming together. Overall, the identity informed the creation of a comprehensive wayfinding system for the museum which is rolling out room by room as we research, write, design and install updated interpretive objects and panels throughout.
We commend the National Trust of Australia, Queensland for providing the space, funds and continued trust to make this project possible and are grateful to all of the locals who have contributed their knowledge and lived experience to the project, notably Aunty Alberta Hornsby and Harold Ludwick.