An identity and visitor experience that promotes respect and care in a conservation reserve.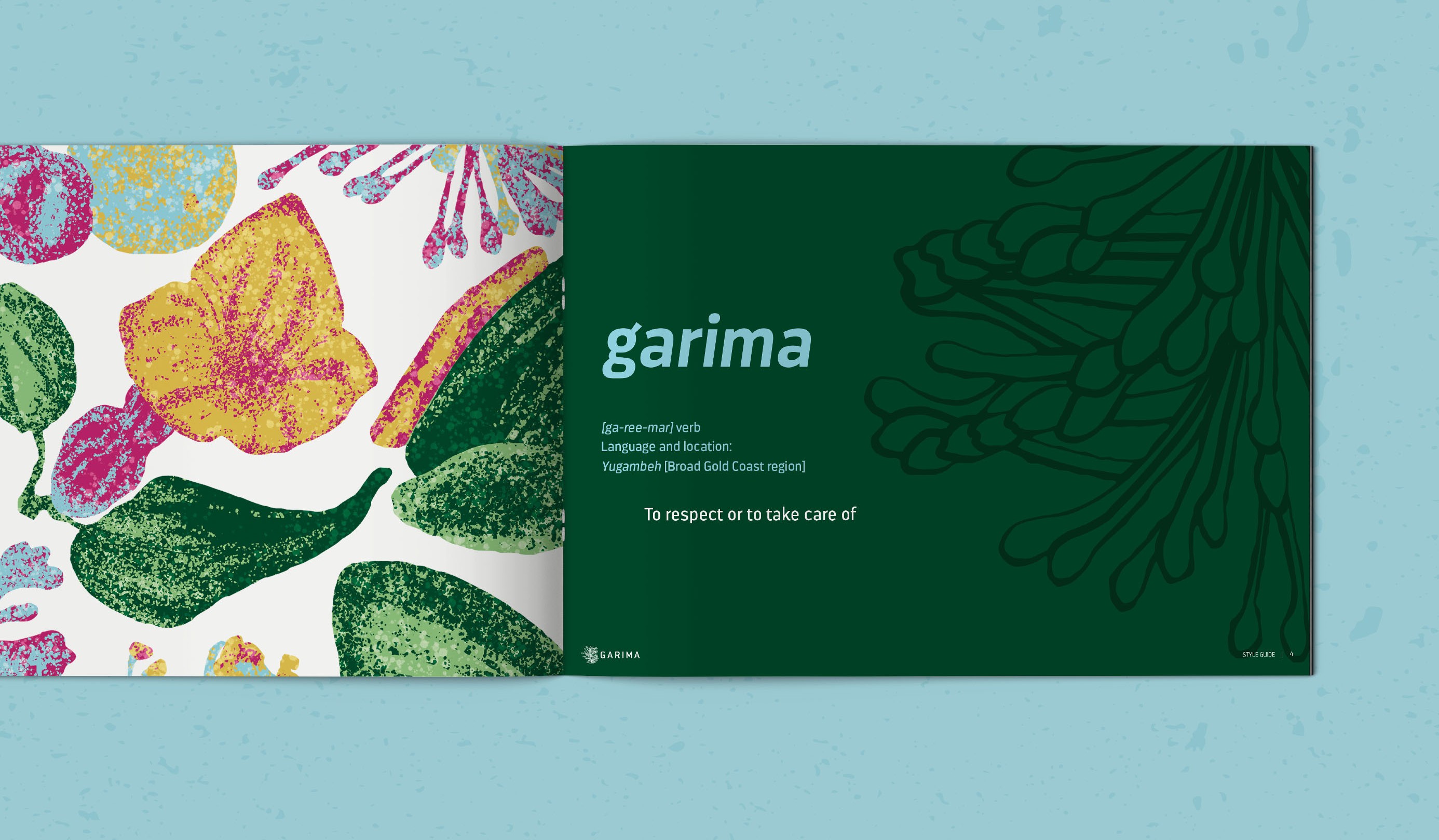 Background
Relative Creative is engaged by National Trust of Australia, Queensland (NTAQ) to deliver a brand identity and wayfinding experience for Garima Conservation Reserve. Garima is located in Currumbin Valley on the unceded sovereign lands of the Yugambeh speaking peoples of the Bundjalung nation.
The site serves two primary purposes: land regeneration and a breed to release threatened species program. Under the gifting arrangements, NTAQ have an obligation to be custodians responsible to conserve the land. The site also offers walking trails and adventure tourism which raise revenue for its primary purposes.
"It is NTAQ's mission to maintain the beauty, diversity and ecological importance of the site whilst opening the site up for use by the wider public".
Opportunity for futures
In Yugambeh, 'Garima' pronounced gar-ee-mar means respect or to take care of. For us, developing a visual identity and wayfinding experience for Garima meant supporting meaningful and respectful interactions with the site. To do this, we focused on Garima's most ecologically and socially responsible aspects: important flora and fauna, land regeneration, conservation, breeding and eco tourism.
Our approach
Relative Creative took a comprehensive approach to this project, commencing with a site visit to gain a place-based understanding of Garima, followed by researching best practice and combining these with our existing experiences with NTAQ properties to determine a typology for the site.
The Garima brand was designed to showcase a commitment to regeneration and species rehabilitation. The Garima site is an essential habitat to six important flora and fauna species. We chose to centre the brand identity on these species. In particular, the Red Bopple Nut features in the Garima logo and across Garima core branding. Various typologies of the site are factored into the brand identity in explicit and implicit ways. This includes the community and cultural connections to nature and Currumbin Creek, the environment and ecological typology of subtropical rainforest and water cascades, the programs and research around land regeneration, conservation, breeding, volutourism, and ecotourism, as well as the public realm and built form of the site now and in the future.
Following the brand identity, Relative Creative developed a system of wayfinding and interpretive signage to complement Garima's natural surrounds with earth colour materials and spectacular pops of colour from the flora and fauna icons.