Community-led speculative fiction for a children's book set in near-future Jellurgal.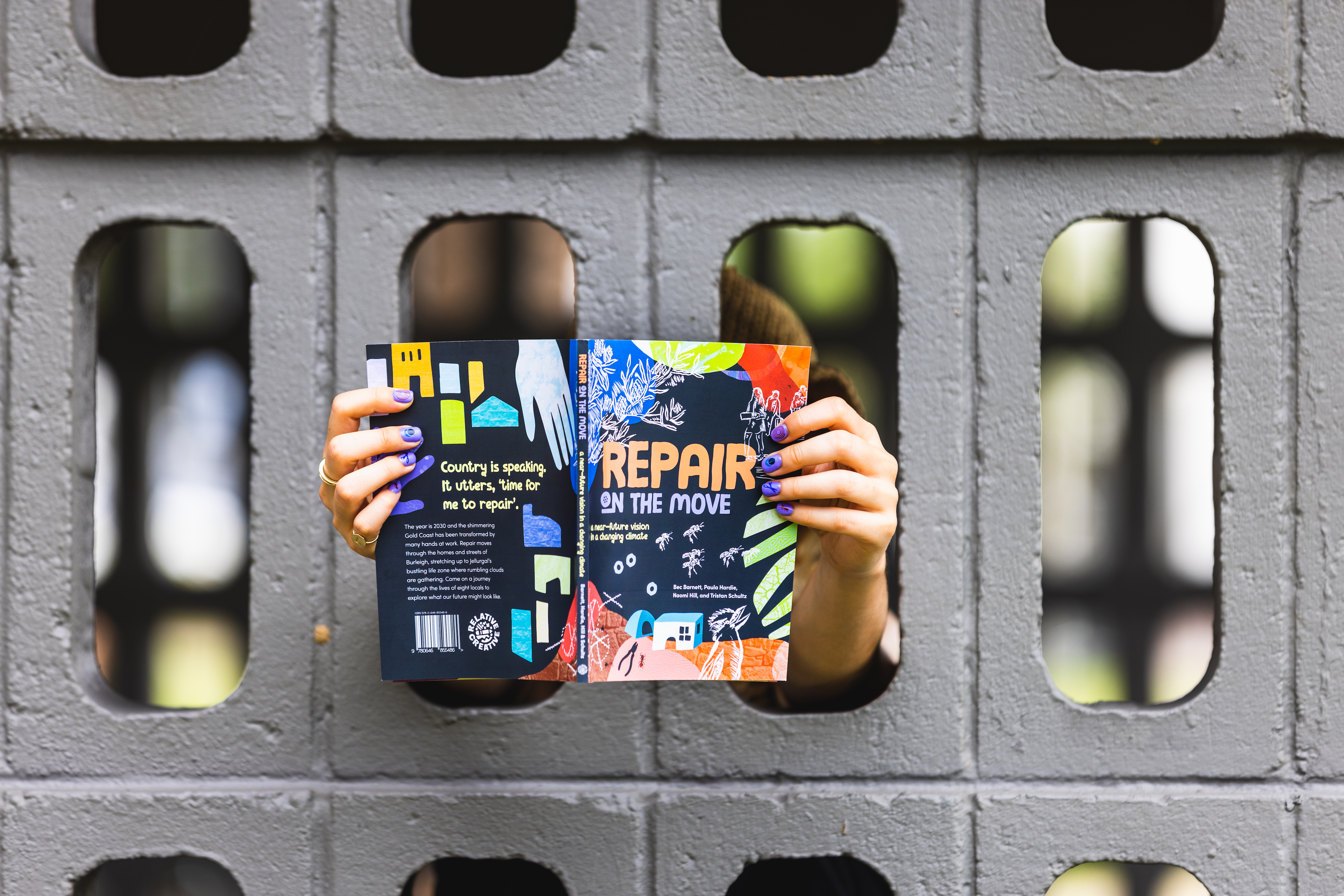 Background
Repair on the Move is the final part of a three-year project titled Gold Coast City Futures and supported by triennial arts funding from the City of Gold Coast.
Repair on the Move offers a collective story, intended for children, of a possible near-future vision for Burleigh set against the context of a changing climate, decolonisation, migration and global unsettlement. This critical design project, collaboratively produced by the Relative Creative team, follows more than a decade of research and work with cultures of repair and sustainable futures.  The chapter's key messages have been informed by Bec Barnett and Tristan Schultz's forthcoming chapter in 'Repair: Sustainable Design Futures', ed. Markus Berger and Kate Irvin, Routledge.
Opportunity for futures
Repair on the Move amplifies six scenarios of repair knowledge, skills and practices moving with people relocating from climate-impacted geographies and between people in existing pockets of repair. It draws attention to the ways repair could be embedded in everyday life as people adapt to the increasingly frequent and intense impacts of the climate crisis.
Our approach
The narrative reimagines a Gold Coast future from a Burleigh Heads-based community perspective by drawing on local visions captured in the 2019 and 2020 Gold Coast City Futures forums, involving yarning, workshops, panel discussions, ethnography and mapping. It builds on nearly a decade of research into repair and cultures of repair into the learnings from these engagements.
Repair on the Move is a project that was driven by the Relative Creative team as we worked together to write, record and visually communicate six vignettes of repair becoming an eveyday practice.
Delivered through the powerful practices of storytelling in three modes—text, oral and visual—Repair on the Move reconceives what it takes to transition to a desirable and attainable future through localised imagination, agency and preparedness.
Listen to the audiobook here.
Access the free digital book here. Please note this is a large file (approx. 85MB).
Purchase a by contacting us directly.
To request a free copy at your local school or library, please email us.