See Change Sand Tracks, a unique event designed to help people think, talk and mobilise their futures.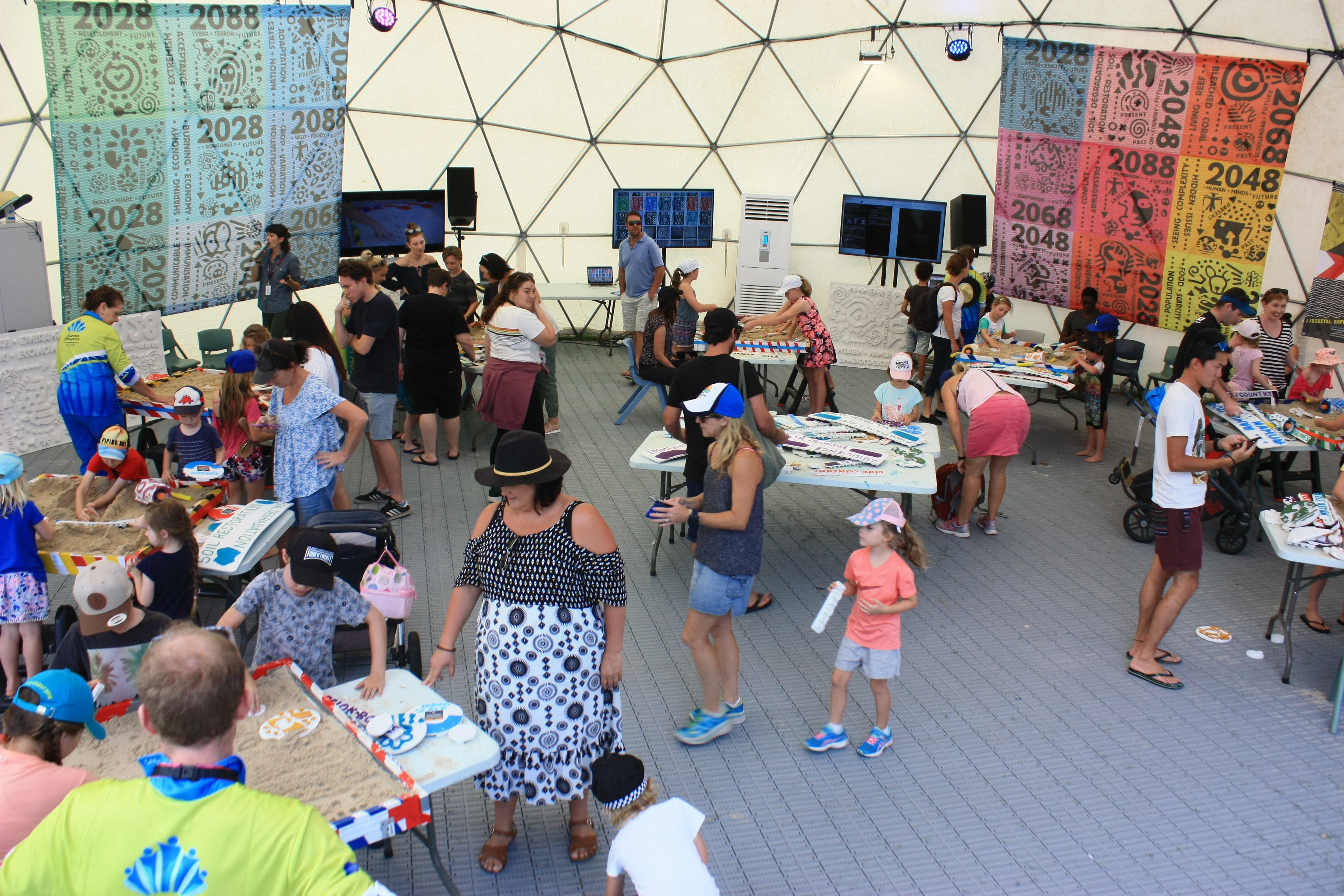 I enjoyed making the pictures both in the sand and online. It was a thought provoking lesson. I liked how thoughtful you have to be in the sandbox, when you are organizing the stamps in the sand. I like how the 'See Change Sand Tracks' project shows all political aspects of Australia and the things that our country strives for and the things that need to change. I like how this project is about making art in such a simple place, and how nearly everything we do and express has meaning and sends a message.
Bella, Silkwood Independent School Student
How might we comprehend, navigate and share with each other the scale of today's complex and fast-paced changing world and transition towards sustainable futures?
Emerging, experimental, speculative, critical and future oriented, See Change Sand Tracks is a design event like no other; designed to help people think, talk and mobilise their futures.
Wicked problems, systems, ecological and social responsibilities embedded in climate change, human movement, societal shifts, food security, conflict, health issues and more will be creatively and interactively made visible through the See Change Sand Tracks event.
See Change Sand Tracks at Festival 2018
See Change Sand Tracks premiered at Gold Coast Commonwealth Games 2018, 'Festival 2018' from 5th – 8th April. Our roller rolled giant prints out in the sand at Broadbeach and Surfers Paradise and we hosted bustling workshops in Kurrawa Park with families making good use of our sand trays to create their own Futures Maps in sand and online at seechange.tv. With the support of Gold Coast Commonwealth Games Corporation, City of Gold Coast, Queensland Government and Commonwealth Games Federation, children and adults alike had lots of fun printing 1m x 1m Futures Maps and talking to our invited special guests about different ideas for the future, Indigenous Knowledge and much more.
See Change Sand Tracks Sand Tray Workshops
We had a busy start to 2018 with the See Change Sand Tracks Sand Trays travelling the length and breadth of the coast running workshops at Gold Coast Libraries. We also held a Workshop with Silkwood Independent School with 60 students from Year 10 and 11 joining us for two hour sessions where they worked together to build Futures Map, exploring our past and present and proposing exciting new directions for the future.
Students worked collaboratively to create their Futures Maps in sand learning about important topics such as Food Security.
seechange.tv, the central hub for a number of project components, is where you can see how the project provides different skills to help people engage in art, showcase their art and tell their stories about these issues. When it launches you will be able to participate in using design and mapping techniques, cinematography and interactive media techniques as well as developing strategic foresight into those futures. Participate in understanding pasts, presents, futures and complexity—in thinking and talking about both the challenges and the opportunities your communities are facing. Explore how Indigenous Knowledge might contribute to navigating towards sustainable futures.
The project utilises funding from the Generate Program: Generate is a City of Gold Coast initiative through the Regional Arts Development Fund (RADF), a partnership between the Queensland Government and the City of Gold Coast to support local arts and culture in regional Queensland. Generate is also supported through a partnership between Gold Coast City Council and Queensland Government's Office of the Commonwealth Games.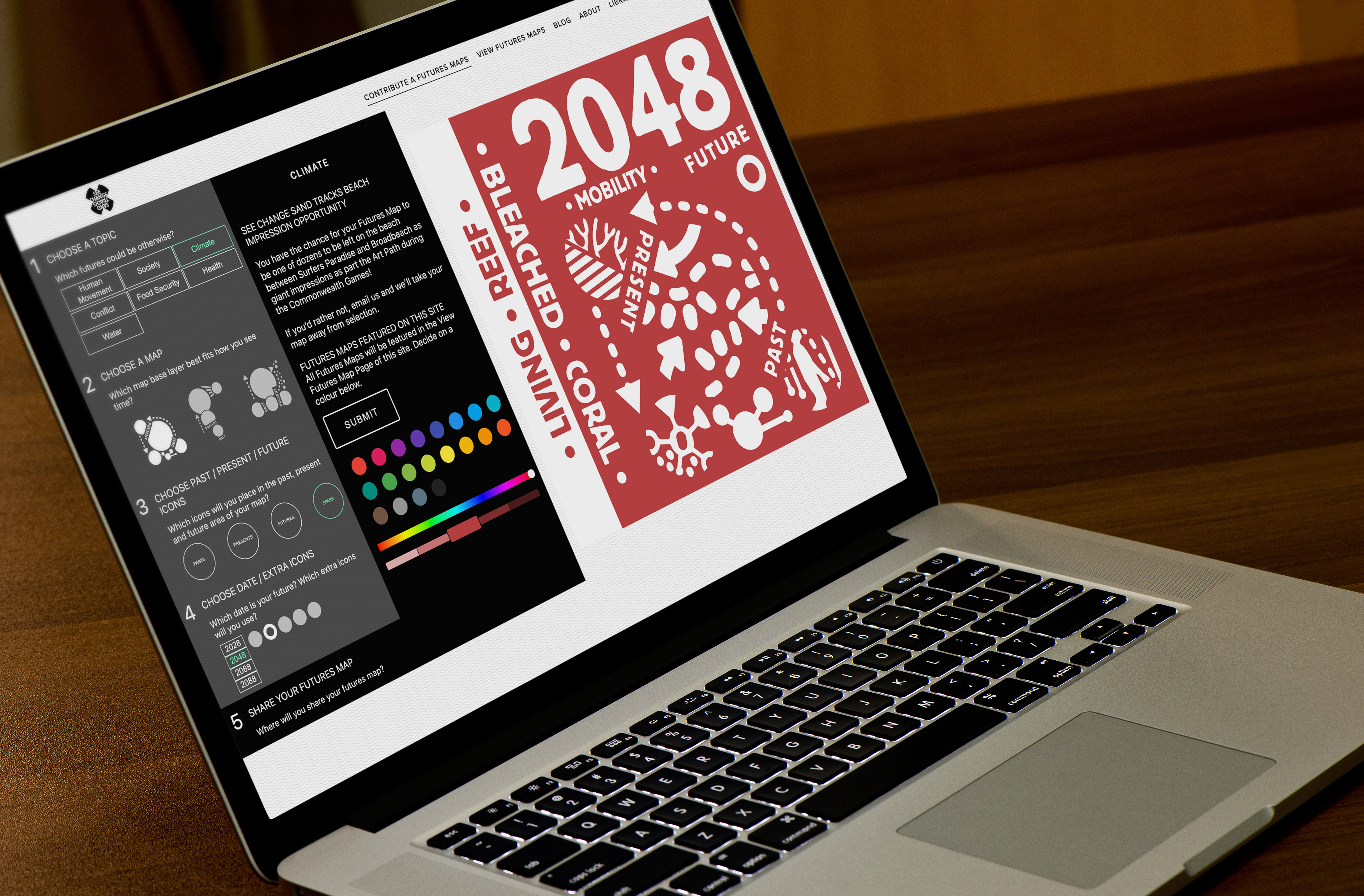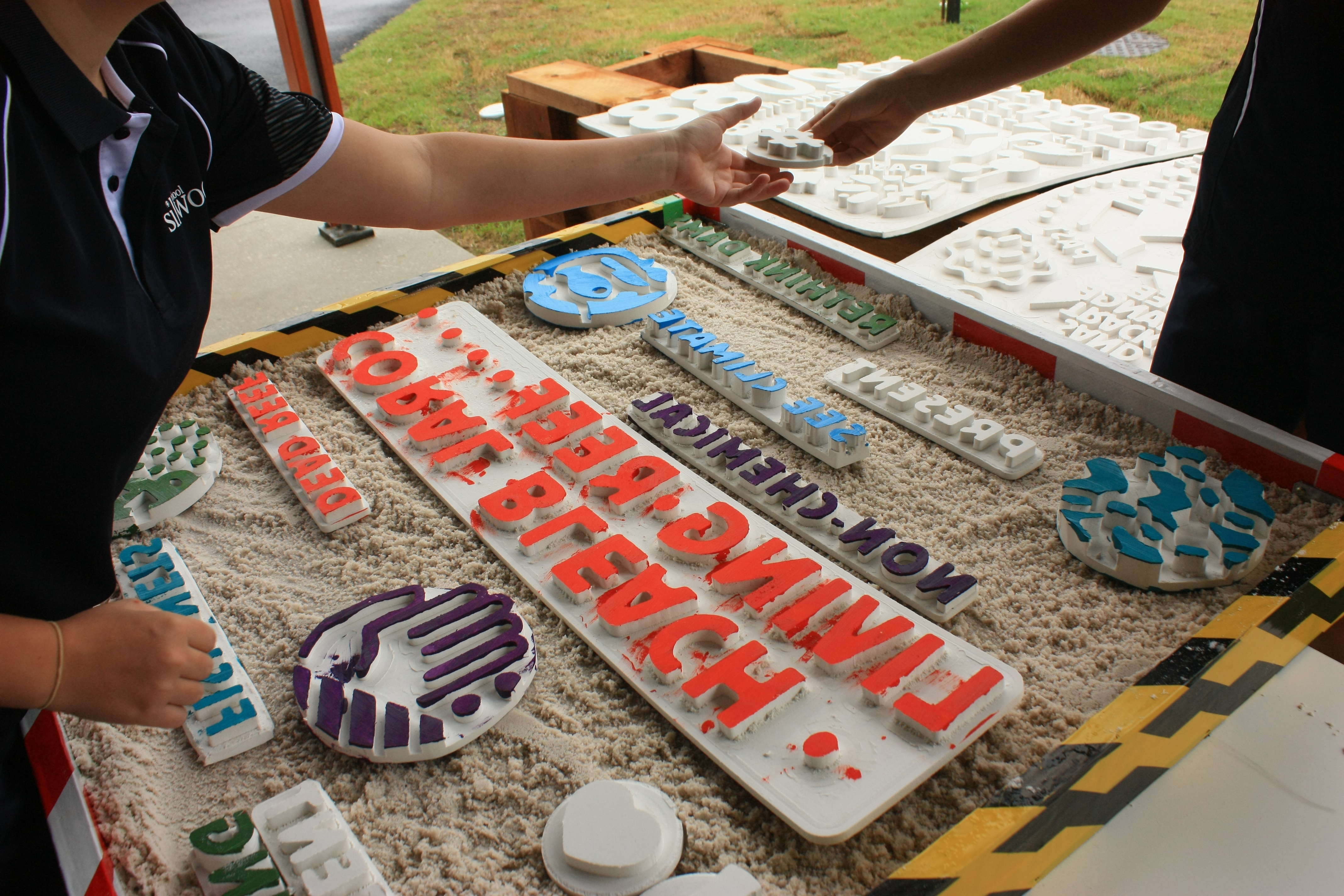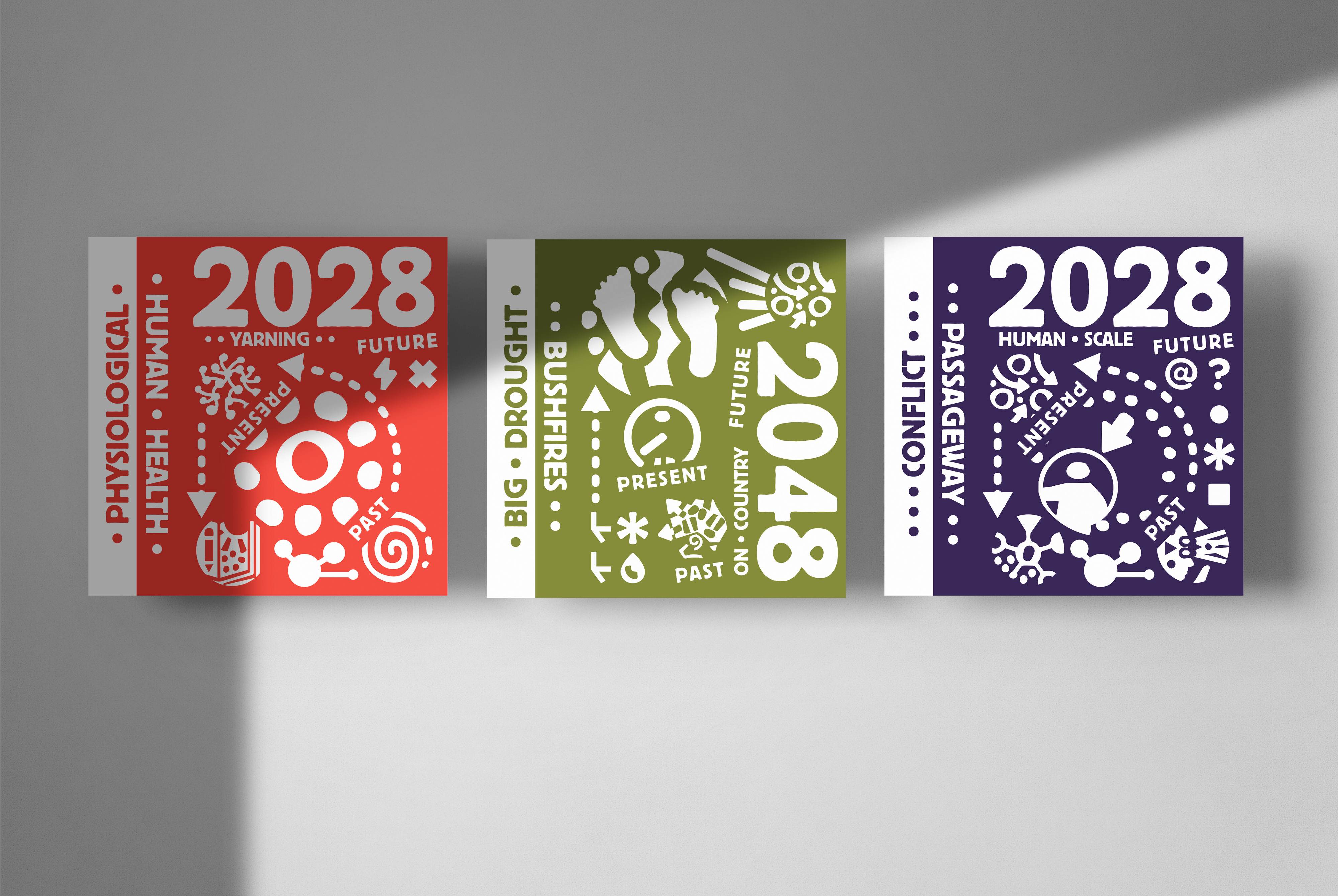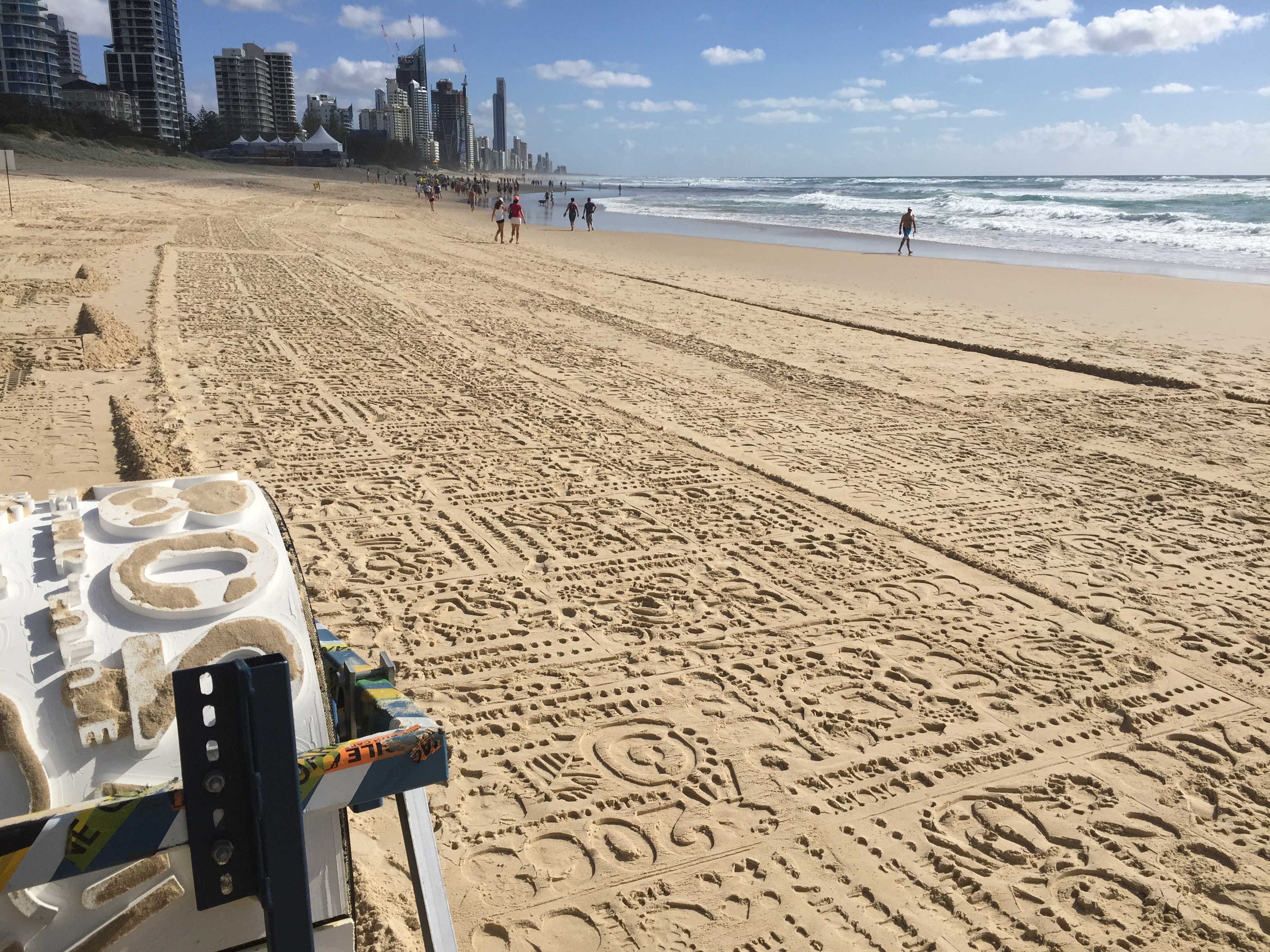 Out of the box
Queensland Performing Arts Centre's Out of the Box festival is curated to offer connected arts and educational experiences for children aged eight years and under. Run over five days, 2018's festival included in-theatre experiences, workshops, activities and exhibitions. Relative Creative's See Change Sand Tracks sand boxes featured as part of the exhibition.
See Change is in response to the question; how might we comprehend, navigate and share with each other the scale of today's complex and fast-paced changing world and transition towards sustainable futures? Tailored to children, the sand boxes prompted participants to undertake tactile engagement, helping them understand that we can communicate in other ways, other than with words. The sand boxes utilised the use of play, and its importance for children, to prompt a conversation around the future. Although, at its most basic level, young children could simply play in sand, children playing with the sand stamps and sand trays in the workshops could start a conversation based on the words and icons, they could follow the colour-coded themed stamps and reflect on the associated knowledge, they could pay attention to the spatial arrangement of what they were stamping and reflect on mapping typologies or facilitators could even prompt reflection on the dominant presence of Indigenous Knowledge in the work, and how this fits or misfits with how they see Aboriginal culture commonly represented.